---
CAPRI CLUB NORWAY ANNIVERSARY MEETING 2019
Ford Capri 50 year – Capri Club Norge 35 year
16 -18 August, Norsjø Ferieland – Telemark
Choose language: Norwegian – Deutsch
Capri Club Norway is celebrating it`s 35th anniversary, and it is also 50 years since the Capri was launched. We`re back at the best site we`d ever held our meetings, The wonderful Norsjø Ferieland (Norsjo Holidayland) in Telemark. We want to make our anniversary something special!

The Capri in Norway was available from 1969 – 1982 and the norwegian Capris are known throughout europe for it`s high standard. No matter, ALL Capris are very welcome!
Expectations:

Based on experiences from arranging several international anniversary meetings our expectations for this meeting is high! Although the Capris will be most in focus we also empasized hospitality and socializing. In 2014 more than 70 Capris arrived from more than 8 different countries. This year our goal is 100 Capris!

There will be many great and rare Capris and 8th months prior to the meeting more than 50 Capris already have promises that they will be there from many countris. Some of the cars you can see at the pictures above and at the bottom of this page.
The place:
Norsjø Ferieland with it`s unique location by a lake, near the Telemark canal is a great experience in itself. It has previous been voted the best campsite in Norway. A great spot for familys to have their vacation with loads of activities offered to all members of the family.
Besides great bathing possibilities there is a kids playground, minigolf, sandvolleyball, water trampolines, pedalboats, canoes, climbingwall in water and possibilities for wakeboard, waterskiing or you can simply fish in the lake. Norsjø Ferieland also have an nice restaurant and a minimarket.
There are several accomodation facilities, from small to bigger cabins, tents, caravans or a hotel nearby.
20 minutes away Norways biggest waterpark, Bø Sommerland is located. There are also daily routes with boat in the beautiful Telemark canal. The meeting is held slightly off season and Norsjø can therefor offer good prices on accomodations.
Booking – accomodation:
Norsjø Ferieland has 30 cabins of different sizes. In addition, you can set up a tent or bring your own caravan or motorhome. There has been a lot of bookings and all the cabins are now booked. This is where the meeting will be held. Contactinformation: www.norsjo-ferieland.no Tel. +47 35 95 84 30. Booking can be done by mail to: post@norsjo-ferieland.no
Norsjø Hotel is located only 1.4 km from the Capri meeting. We have booked 15 rooms here, but there are many available rooms. Say that you are attending the Capri meeting and you will get about 100,- in discount per day. The discounted prices are NOK 1,350,- per night for a double room and NOK 990,- for a single room per night. Bookings can be made by calling the hotel on +47 35 95 50 00 or by email: . https://norsjohotell.no/ There is a local taxi so if you want to park your Capri at the meeting ground you can always use that if you dont want to walk the kilometer back to the hotel.

Please note: Capri Club Norway have reserved ALL the campisite for this weekend. Accomodation must therefor be ordered through e-mail directly to Norsjø Ferieland, and not order via their web-page. Remember to inform them it`s for the Capri meeting! E-mail: post@norsjo-ferieland.no
NB! When booking online at booking.com, you will not receive discounted rates. It may also look as its fully booked since Capri Club Norway has reserved all cabins and 15 hotell rooms. More accommodations can be found on booking.com
Registrate your arrival:
Although its not compulsary we would like to know if you are coming or not. Then we can prepare as best as possible. Pleas registrate at our eventsite on facebook. https://www.facebook.com/events/331682740710220/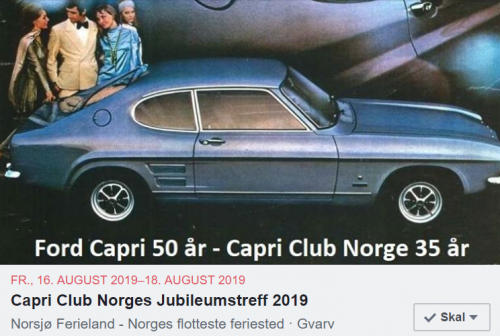 Contactpersons in Capri Club Norway:
Inge Lirhus, Chairman, Tel: +47 95 81 69 42, email:
Please check our Facebook page for more updates on the meeting.
Links:
https://www.facebook.com/events/331682740710220/
www.norsjo-ferieland.no
www.visittelemark.no
Program:
| | |
| --- | --- |
| Friday | |
| 12 | Check inn and carwash |
| 7:30 pm | Club meeting. CCN members only |
| 8 pm | Opening and dinner at restaurant. Celebration. Club picture slideshow. CCN in sponsoring the dinner for better prices |
| Saturday | |
| 7 am | Carwash opens |
| 10:00 am | Check in Capri meeting. |
| 10:00 am | Partsmarket, Clubshop, Activities. Judging |
| 3:30 pm | People Choice award |
| 4 pm | Capri cruising. 30 minutes roadtrip. |
| 7 pm | Dinner and party at the restaurant |
| 9 pm | Priceaward at restaurant/lottery with great prices |
| Sunday | |
| 10 am | Display and photographing of winning Capris. Compulsary attendance for price winners |
| 12 | Check out - end of meeting |
Prices:


1-3. Best original MK I
1-3. Best original MK II
1-3. Best original MK III
1-3. Best modified MK I
1-3. Best modified MK II
1-3. Best modified MK III
Longest travel Norwegian Capri
Longest travel Foreign Capri
Peoples Choice Norwegian Capri
Peoples Choice Foreign Capri
Best original Capri ALL classes
Maps:
By clicking on the Google maps below you can easily find out how far it is for you to travel. However, if this is your first time in Norway there are several different roads to the Capri meeting which can be fun to drive and also give you a great view of some of the nature we have in Norway.
If your accomodation is at Norsjø Hotell the map below shows the distance between the hotel and Norsjø Ferieland, the site were the Capri meeting will be held. Click on the map to open Google maps.
Some of the Capris that are expected to arrive: